All news articles
11 Feb 2012
---
Resistive touch interfaces have become very popular as a standard user interface in many applications because they provide of easier integration, lower total system cost and simpler input with finger, glove, or stylus. These are now widely used in applications such as medical devices, industrial controls, handwriting or signature capture, point of sale terminals, tablet displays, and many other kinds of touch-input devices.
The new mTouch AR1100 Analogue Resistive USB Touch-Screen Controller introduced by Microchip is a single-chip plug and play solution that provides these advantages along with universal support for a wide array of touch screen manufacturers. Based on the AR1000 Analog Resistive Touch-Screen Controller series, the AR1100 controller offers high performance with advanced calibration capabilities as a USB mouse or single-input digitizer. There are calibration options for alignment and linearization, which enables higher accuracy for 4-, 5- and 8-wire touch screens, as well as accurate button pressing for critical applications with tight board spacing.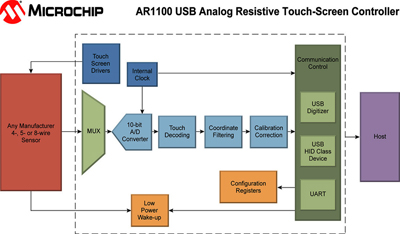 No configuration is necessary as the AR1100 is designed to be a fully-functioning touch controller on power-up. The device can dynamically adapt to various touch screen electrical characteristics such as sensitivity, contact resistance, and capacitance for optimal performance. Very little extra hardware is needed for this universal controller and the device will automatically detect the communication mode (either USB or UART) and configure itself accordingly. If USB is detected, AR1100 automatically defaults to a mode that is compatible with the intrinsic drivers of standard operating systems. Additionally, the USB mode will enumerate as HID-MOUSE, which is the default device type. There are also two other device types (HID-GENERIC and HID-DIGITIZER), which can be set by the configuration command and is saved in nonvolatile memory. Any desired modifications to the operating parameters of the touch screen can also be easily saved to internal nonvolatile memory to override the defaults. A jumper on the MODE pin is all that is needed to select the sensor type (either 5-Wire or 4/8-Wire).
Microchip's mTouch AR1100 Development Kit (DV102012) provides all that designers need to get started using AR1100 analog resistive touch controllers as a turnkey, cost effective touch solution. The kit includes an AR1100 production-ready PCB, USB and serial communication cables, a 5-wire 7" touch screen, and extra touch screen pin-out adapter cables that designers can use to quickly connect and test almost any 4, 5, or 8 wire touch screen. A CD is also included with the full suite of AR1100 utilities and all the documentation for the chip and board options of the AR1100 touch screen controller.
With free drivers for most major operating systems, the AR1100 enables designers to quickly create low-risk touch interface solutions. The AR1100 controller is available immediately in 20-pin SOIC, SSOP and QFN packages and is also available as a board product.