Using the PLT-1003 to interface to amateur radio
4 Apr 2011
---
Tony from Brighton in the UK is using the PLT-1003 USB to serial module to connect his computer to an amateur radio.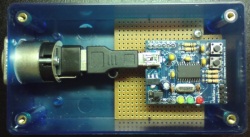 Tony send this picture in and we asked what you could do once you had an amateur radio under control via USB.
He wrote:
"There are a number of reasons we interface radios with the PC.
Firstly, scanners and two way transceivers have an EEPROM which holds configuration and channel by channel data such as frequency etc. This is traditionally programmed from an RS-232 port and then to a level shifter to TTL level. Level shifting is often provided in the manufacturer's programming lead, often by a crude two transistor circuit leaching power from the RTS and / or DTE lines which are asserted by software but not used for handshaking. With USB equipped computers, most users find themselves at the mercy of a godawful Prolific USB to RS-232 adapter, and then another interface lead to convert to TTL.
Secondly, it is possible to remotely control certain amateur radios at TTL level via a two wire interface. This is called CI-V or a variation thereof. And thirdly, a growing area of interest is to operate a radio as a VoIP gateway. In this case, the only function of a USB interface is usually simply to switch the radio from transmit to receive using either RTS or DTR as defined within the gateway software. Some software can make use of the CTS and DSR lines for signaling from the radio device to the PC."
The PLT-1003 is our biggest selling module, with some people using it out of the box to recover data from hard drives that require a TTL interface, and others going on to hack the firmware to do a miriad of different things. Great work Tony, we look forward to hearing more about the project!