New BGA720 amplifier from NXP
27 May 12
---

New technologies are continually being developed to handle the crowded frequency bands over multiple channels in wireless interfaces.
Engineers tend to look for components that pack the most features in one small package, which reduces the number of total components, and enables the finished product to fit within small dimensions, like a cell phone.
Power consumption is always a major factor in these decisions, so an engineer usually chooses components that dissipate the lowest power possible with the highest level of performance. They look for enhanced parameters like increased output power, higher peak gain, and wider bandwidth in an amplifier to optimize performance and provide greater functionality.
If a device could be found that operates at more than 2 GHz of bandwidth, it could serve multiple functions on several frequency bands.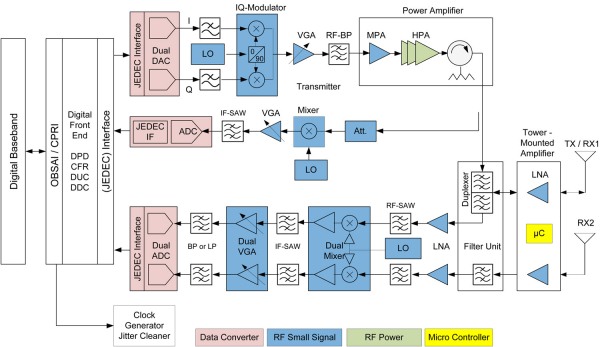 The new BGA7204 and BGA7210 from NXP Semiconductors combine this high bandwidth along with several other features and low power consumption into one small package.
These devices are both 6-bit digital variable gain amplifiers (VGAs) that feature extremely high linearity and low noise across a very wide frequency band. The BGA7210 is considered to be the only VGA of its kind capable of operating at frequencies up to 4 GHz without external matching. The BGA7204 provides 21 dBm of output power at 1 dB compression at maximum gain setting with a high output IP3 of 38 dBm. The BGA7210 delivers 23 dBm of output power with its high output IP3 of 39 dBm. Both devices offer 31.5 dB of gain control with a 6-bit 0.5 dB digital step attenuator, and have a noise figure of 6.5 dB at maximum gain. The BGA7210 provides 30 dB of maximum gain, while for the BGA7204, it is 18 dB. The BGA7210 can operate over an extremely wide bandwidth from 0.7 GHz to 3.8 GHz, while the BGA7204 is a little lower, with a bandwidth of 0.4 GHz to 2.75 GHz.
These new VGAs make sure that the incoming signal is always at optimum strength by compensating for any degradation caused by changes in temperature.
When used in wireless infrastructure equipment, the power level to the power amplifier can be controlled, which helps to compensate for variations in cell load and the presence of aging infrastructure equipment. Both products include a unique power-save mode that can reduce the current to about 15 mA, which is beneficial for Time Domain Division (TDD) systems.
The current consumption and attenuation levels are controlled through a Serial Peripheral Interface (SPI). If linearity is not critical in the application, current consumption may be reduced in the BGA7210 to 120 mA by changing the current setting. Optimal linearity performance is obtained at 185 mA. The current consumption can also be reduced in the BGA7210 according to the attenuation setting for better overall system performance. The BGA7210 can also be switched on and off based on a duty cycle, which can really save on power.
This has to be done carefully to avoid spurs that occur during the fast switching transitions.
These new VGAs would provide enhanced performance in applications like: WiMAX and cellular base stations, cable modem termination systems, temperature compensation circuits, and other IF and RF applications.
These devices come in 5 x 5 mm leadless HVQFN packages, and feature NXP's unique smart routing lead design, which simplifies PCB placement and reduces the footprint of the device by 25 percent. Routing is simplified by the fact that the pin-outs that do not cross other connections to the package. In addition, these devices are RoHS compatible, provide ESD protection on all pins, and meet moisture sensitivity level 2.
NXP manufactures these parts by using its innovative SiGe:C QUBiC4 chip fabrication process, which allows more functionality on-chip with less space. This process has been extensively tested since 2002, and it now provides consistent parameter performance.