ST and Micropelt energy harvester
12 Feb 12
---
Wireless sensor and actuator systems using energy harvesting have the potential to achieve a huge green impact in future applications, as they could eliminate the need for battery charging systems, battery replacement, maintenance and disposal problems. Not only would they eliminate battery problems, but wiring and connector problems when interfacing between various sensors, actuators, and other low-power device are eliminated also. This can save a lot of trouble while being very cost effective, as wiring, connectors, and batteries can be very expensive and troublesome. Another huge advantage is that sensors and actuators can now be placed in previously inaccessible locations.
ST Microelectronics has teamed up with Araymond, a supplier to the automotive and solar industries, and Micropelt GmbH, of Freiburg, Germany to provide thermal-energy harvesting-based solutions to power 'smart sensors' and 'smart microsystems'.
Micropelt is known for the development of the world's smallest and most effective thermoelectric elements for micro energy harvesting, thermal sensing, cycling and cooling. Micropelt has developed chip-sized thermogenerators (TEGs) which converts the waste energy as heat is transferred from a higher temperature to a lower temperature into electrical energy, and they have been able to achieve the highest power density available packed into a few square millimeters of footprint. They accomplish this with a patented scalable thin film micro-structuring platform technology using the 'Seebeck Effect', which maximizes power density for energy harvesting, cooling or thermal cycling while minimizing component size. Batteries may now eventually become obsolete as free electricity from waste heat can power wireless sensor networks and ultra-low-power systems for their entire life.
ST has focused on providing energy storage components that would support this new energy harvesting technology. They supply the rechargeable battery used in the TE-Power NODE kit, which is the EFL700A39 EnFilm thin film solid state battery, with a 700-microamp-hour rating. This battery can supply an inrush current up to 10mA. ST also provides a battery board which contains the EnFilm battery and the electronic circuitry that controls and monitors both battery charge level and the energy balance.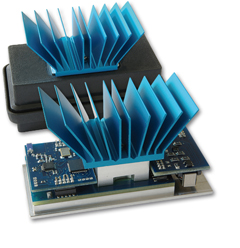 Their combined efforts resulted in the development of evaluation system featuring ST's new long-life EnFilm rechargeable battery combined with Micropelt's Thermal Electrical Generator (TEG) chip. This system is called the TE-Power NODE evaluation kit, and demonstrates a new type of virtual wireless perpetual-energy solution with long-life and maintenance-free operation.
Micropelt has designed custom power conditioning circuitry which controls the generated thermoelectric power so that it provides sufficient power to drive a wireless sensor node and charge a battery using its excess thermal energy. Within the TE-Power NODE evaluation kit, the Micropelt TEG MPG-D751 is housed between a solid Aluminium base plate and a finned heatsink. The base is attached to a suitable heat source, so the cooling effect of the heat sink creates a temperature difference which is used to generate electrical power through the TEG. When the base plate is in contact with a heat source, the TEG provides power to the system and recharges the EnFilm. When the heat source is removed, the TEG stops and only the EnFilm battery provides power to the wireless sensor. The battery is also needed to supply the occasional pulses of higher current.
Micropelt has included a versatile ultra-low power 2.4 GHz wireless link to its custom designed graphical user interface in the wireless sensor module. Power management and charge monitoring circuitry in the TE-Power NODE evaluation kit connect to the included graphical user interface software using the wireless link. The software can display and log important thermal and electrical system parameters, and maintains a continuously measured power balance between the TEG and the EnFilm battery.
There is a growing trend towards the use of wireless sensor networks, and they would be useful in applications like process automation, condition monitoring, and smart buildings. As energy harvesting becomes more widely used, free electrical energy can be extracted from many other sources where thermoelectric power isn't readily available, such as vibration, light, and RF energy.